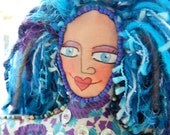 This doll is so pretty. I made her 8.5 inches tall from some vintage cotton - more from my mother-in-law's collection - in a bright blue and lilac abstract floral print. Her eyes are really vivid. I've been enjoying painting the faces of my latest dolls.
I decorated her with glass and ceramic beads and sequins and hand dyed the blue silk flower petals for her skirts. Notice the pearls! Her cha...
Click Here to Visit My Etsy Shop!