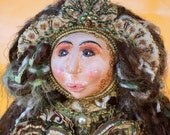 Still here in my shop...Her name is "Journey". She began her life as a Byzantine Russian babushka, journeying as a storyteller around medieval Europe picking up a Greek coin, an Indian silver and crystal charm and a Roman Rosary bead. She has added the charms and a quartz crystal spear to her magical rainbow staff.
I created her staff to be removable and used by you as a wand, to focus your spiritual thoughts.
Click Here to Visit My Etsy Shop!